Product Overview
Product Description
Purezone 800 micron filter for use in single cartridge O2 Spas between late 2009 and mid 2010
Whilst conventional filters trap particules as small as 50 microns (50/1000th of a millimetre) the purezone micro filtration is 10 times more effective, trapping particles as small as 5 microns (5/1000th of a millimetre).
Can be replaced with the 800 pleated filter cartridge.
This filter fits these Pre August 2010 O2 Spas and swim spas:
Azure, Aquagym, Aqualap, Cerium, Cobalt, Hydrozone, Iridium, Mercury, Nitro, Palladium, Spectrum and Xenon.
Your O2 filter holder will look like this: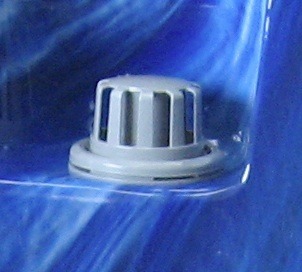 Details:
Manufacturer:For O2 spas, Vortex spas, and Arcadia spas
Model: 124714
Height:
Outside Diameter: 127mm
Thread Diameter: 44mm
Top: Closed with handle
Bottom: Open
Sold individually:
Selection Tips
Check the diameter and thread
Check your spa type
Check your model number
Reviews